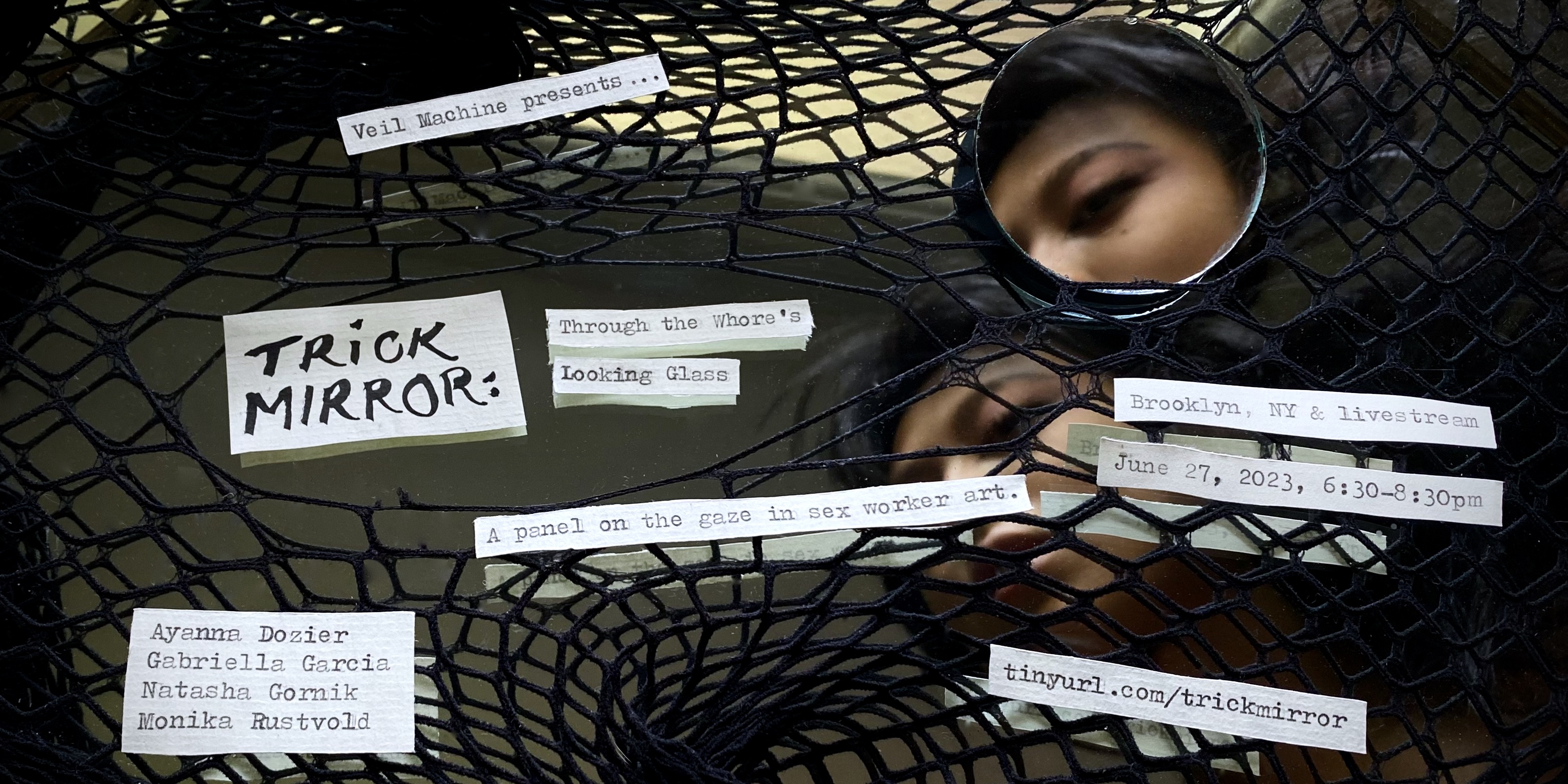 Trick Mirror: Through the Whore's Looking Glass
A Panel Discussion on The Gaze in Sex Worker Art



Featuring Natasha Gornik, Ayanna Dozier, Gabriella Garcia, and Monika Rostvold.
When: Tuesday, June 27th 6:30-8:30pm EST
Where: Bushwick, Brooklyn and via livestream (address and link sent with RSVP)

$10 minimum donation for non-sex-workers. Sex workers are free with promo code. Accessibility info on event page.


Tickets



The museums are full of whores. Conduits of creative inspiration captured into frames, screens, and pedestals, and locked in by institutions. It is no coincidence that the history of surveillance also began through the impulse to capture whores — from the earliest laws on border control to the development of fingerprint identification and algorithmic profiling. The whore: distorted and deformed into a symbol of alterity.

What, then, does the gaze of the whore do? Both over- and underdetermined by the way we are seen, we look back at the world through the looking glass. As the objects of these gazes we have unique insight into not only how they work but even how to play them to work for us. When we gaze – whether upon each other or those who gaze at us – what position do we hold? When reframing the politics of spectatorship through the possible agency of a whore ethic, what becomes possible?




Bios

Natasha Gornik - I have spent the past two decades photographing and filming sexual subcultures that I deeply identify with. My interest lies in the exploration of self through intimate connection and the experiences born from it. Video and photography have allowed me to document my own evolving identity, as well as my communities. My latest photographic work explores the merging of selves with my spouse. I work and live in Brooklyn, NY. (website / IG / kinky IG)

Ayanna Dozier - Ayanna Dozier is a Brooklyn-based filmmaker-artist and writer. Across performance, experimental film, and photography, her work examines how body labor (that includes; sex work, sex clubs, and "illicit" sexual activity in public spaces) are surveilled and criminalized through white supremacist "sight-based" discourse. She is currently an assistant professor in film at University Massachusetts, Amherst and is the author of Janet Jackson's The Velvet Rope. (website / IG)

Gabriella Garcia - Gabriella Garcia is a writer, performer, and poetic technologist. Her work explores the protection of radical self-expression, networked subcultures, and cybernetic intimacy. As co-founder and director of Decoding Stigma, she works toward prioritizing sexual autonomy as a necessary ethics question for futurists. She received her Masters at NYU's Interactive Telecommunications Program (ITP), and continued her research as part of ITP's '20-21 postdoctoral residency. She was part of the first C/Change R&D Lab supported by Gray Area and the Goethe-Institut San Francisco, and is currently part of the New Museum's New INC Y9 cohort. Her work has been presented Institute for Public Knowledge (NYU), Design & Technology Cloud Salon (Parsons), Berkman Klein Center for Internet & Society (Harvard), Hacking//Hustling, and Decriminalized Future's Ladies of the Night School. She sits on the community advisory board for the Surveillance Technology Oversight Project (stopspying.org). (website / IG)

Monika Rostvold - Rostvold achieved her BFA in 2015 at Texas State University. She finished her MFA in Interdisciplinary Studies at Pratt Institute in 2019. While living in New York Rostvold has worked with many organizations, and institutions to support women's rights including; the Museum of Sex, SOAR Organization, and Stigma Unbound. Rostvold's artwork has been in many discussions around feminism and has been shared by Cosmopolitan Magazine, Artnews, and Huffington Post. Her artwork shows the reflection of the male gaze. The blatant stares of these men make the viewer a part of the narrative by being their subject of yearning. All the while the viewer sees their competitive sexuality, flaunting wealth, and fragile egos.